An innovative new lock designed for use in the post, mail and parcel box market.
The unique design means that the user retains the key at all times as the mailbox can be opened and secured by turning the knob. After each delivery the lock has to be reset using the key so the handle cannot be turned, or the mailbox accessed, until the user returns.
Watch our video below to find out exactly how the lock works.
For further information or to request pricing contact us today on +32 61 212.261.
Lock Combinations: 2,000
Standard finish: Chrome
Fixing hole shape: Double D
M Keyed system supplied to order only
How the lock works
Step One
This is the lock in the locked position


Step Two
The user turns the key 90° (clockwise) then removes it. This positions the handle so the lock is ready to be opened by the delivery person.


Step Three
The delivery person now turns the handle 75° (clockwise), this allows them to open the parcel or mailbox and place the package inside.


Step Four
The delivery person then closes the door and turns the handle back to the start position (anti clockwise) to lock the door.

Video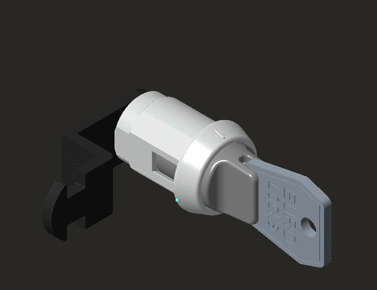 ---